WELCOME TO THE VILLAINS FANON WIKI
FEATURED VILLAIN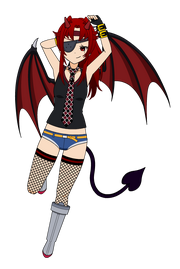 Pepper Satanica (ペッパーサタニカ, Peppā Satanika) Is the Main Antagonist Of The Margra Batto And Kyra Verbeten spinoff, The Punkettes, And The Punkettes II: Pepper Satanica Returns. And the Secondary Antagonist and the Bigger Bad of the 2nd spinoff, The Minu Krab.
She Is The Evil Twin Sister of Kiota Angelica, And The Most Challenging Rival of The Spinoff's Main Protagonist, Spyro Doomfire.
She is the Leader of The Minions of Pepper. She is also one of the most darkest KissHeart Villains of all time.
She is created by Yuki Satash, and voiced by the series creator, Spy64/$py64.

To Vote for next month's Featured Villain, go to Villains Fanon Wiki:Villains Vote
EVIL NEWS
Villains Vote and Featured Villain has been brought back
HELP THE VILLAINS
To write a new article, just enter the article title in the box below.
Not sure where to start?
Adding content
Talk and more...
Check out the community portal to see what the community is working on, to give feedback or just to say hi.
Or head on over to the forums and coordinate with the community on editing, projects, and more.
EVIL BLOGS

Create blog post
Refresh
Ok Guys Villains Vote and Featured Villain has been discontinued so now as it's gonna be revamped in order to be more O…

Read more >

Hey guys just to tell Featured Villain will be discontinued Tomorrow    the reasons are listed here  Reason #1: It's pu…

Read more >
See more >
OUR VILLAINOUS FRIENDS
If you would like to become an affiliate, please contact SF12.
ABOUT VILLAINS FANON WIKI
This is the wiki for those who wanted to add villains originating from various fandom or characters of your opinion are villains. For heroes, see Heroes Fanon Wiki.
EVIL CHAT
RULES TO BECOME A VILLAIN
Before contributing, please read our rules and abide by them.