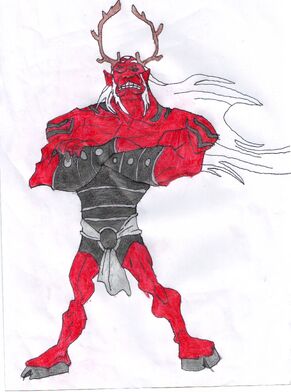 Trigon is villain in the Character What universe, Trigon is a major villain from the Teen Titans and a villain from the DC universe.
Character What:
In Trigon's Terror, Trigon plays his role as the main antagonist of the episode.
Powers and Abilities
Trigon is a supremely powerful demon who possesses demonic powers and is the embodiment of evil.
Life Creation: Trigon is able to create living being such as a human/demon girl known as Raven.
Resurrection: Trigon is able to bring a person back to life.
Power Bestow:
Dimensional Travel: Trigon can cross countless dimensions full with countless worlds.
Realty Warping: Trigon can warp realty by turning humans, animals, and plant-like into stone.
Size Alteration: Trigon can grow taller when gain power.
Teleportation: Trigon can disappear and reappear.
Prescience:
Demonic Pyrokinesis:
Fire Immunity: Trigon is immune to fire and heat.
Super Strength: Trigon possesses enormous strength.
Super Durability: Trigon possesses enormous durability.
Flight: Trigon van fly into the air without wings.
Optic Blasts: Trigon can fire red energy beams from his eyes.
Lava Breath: Trigon can generate of lava from his mouth.
Weather Control: Trigon can control the weather.
Sin Empowerment:
Trivia
Trigon is one of the most powerful demons in Character What, The others being Aku, HIM, Shendu, Bai Tza, Tso Lan, Drago, Diagon, and Lord Tirek.
Trigon is one of the few villains in Character What who can use Resurrection, Follow Shadow Aaron, Maleficent, Hades, HIM, Diagon, and Galactus (Not counting Imhotep, Charmcaster, and Zs'Skayr).
Ad blocker interference detected!
Wikia is a free-to-use site that makes money from advertising. We have a modified experience for viewers using ad blockers

Wikia is not accessible if you've made further modifications. Remove the custom ad blocker rule(s) and the page will load as expected.