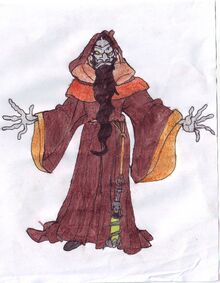 Rasputin is a major villain in the Character What franchise, Rasputin is also a character from the 1997 Don Bluth film Anastasia.
Character What: Hero Force
In Return for Revenge, Rasputin join forces with Shadow Aaron and the other villains to seek revenge of Shadow Joe.
Rasputin makes a cameo in Up to the Next Game, When he was chosen by Charles Zenith to be a contestant to win Shadow Joe's hands, but Shadow Joe didn't want many of his enemies to be contestants to win his hands so Zenith demise Rasputin along with a few of Shadow Joe's enemies.
Powers and Abilities
Sorcery: Rasputin possesses great magical abilities all come from his amulet.

Magical Beam Emission: Rasputin can project green magical beams from his amulet.
Dream Manipulation: Rasputin can manipulate dreams as shown with Anastasia.
Animation: Rasputin can bring to life any inanimate object as shown bring the Black Pegasus statue to life.
Trivia
Rasputin is one of the few villains in Character What to be based on actual historical person.
Gallery
Ad blocker interference detected!
Wikia is a free-to-use site that makes money from advertising. We have a modified experience for viewers using ad blockers

Wikia is not accessible if you've made further modifications. Remove the custom ad blocker rule(s) and the page will load as expected.