Eris is a major villain in the Character What series.
Character What: Tales
Character What: Hero Force
Character What: New Hope
Character What: Ultimate Hero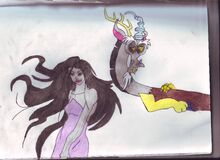 In Discord and Eris, Eris team up with Discord and it is reversal that Discord has a crush on Eris.
Character What: New Adventures
Character What: Villains Revenge
Character What: Friendship is Magic
Powers and Abilities
Eris is the Goddess of Discord and she has god-like powers.
Nigh Omnipotence: Eris has almost omnipotent-level powers.
Teleportation:
Underwater Breathing: Due being immortal, Eris can breath and survive underwater.
Evaporation: Eris can vaporize herself and reform at will.
Size Manipulation: Eris can alter size by becoming giantess.
Weapon Creation:
Shape-Shifting:
Flight:
Trivia
Eris is one of the few villains to not be imprison, killed, or redeemed in their last appearance following Chaos, HIM, Madam Mim, Queen of Hearts, Lady Tremaine, Ronno, Zeus, Slender Man, Bad Shadow Joe, Nega Joe.
Ad blocker interference detected!
Wikia is a free-to-use site that makes money from advertising. We have a modified experience for viewers using ad blockers

Wikia is not accessible if you've made further modifications. Remove the custom ad blocker rule(s) and the page will load as expected.