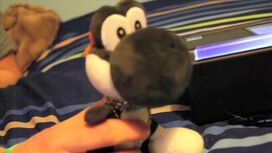 Black Yoshi is an on and off villain and an anti-hero in SuperMarioLogan. He is one of Mario's best friends.
He was also the main antagonist in some videos.
History
Black Yoshi is a gangster who is Yoshi's cousin.
He likes to play Call of Duty, drink Kool-Aid and eat KFC fried chicken. 
He is also the announcer for the SuperMarioLogan Theme Song.
Black Yoshi also calls Bowser "Boozer".
Personality
Black Yoshi is violent as he kills people, he commits crimes and does other bad things.
Despite being a criminal, he still has good intentions as he treats Chef Pee Pee nicely and he is shown to be nice to people until they make him angry.
He also hates it when people touch his Call of Duty.
Forms
Trivia
In the SuperMarioLogan Theme Song, Black Yoshi appeared the longest.
Black Yoshi kills characters more than the other SML characters do.
Since Black Yoshi was forced to pay Child Support in Black Yoshi's in Trouble, It is possible that he has children. 
Although Yoshis are adorable, Black Yoshi is not adorable since he is a criminal.
His song is Not to cray by Huma Huma.
Ad blocker interference detected!
Wikia is a free-to-use site that makes money from advertising. We have a modified experience for viewers using ad blockers

Wikia is not accessible if you've made further modifications. Remove the custom ad blocker rule(s) and the page will load as expected.